The Arizona US Flag - Arizona was the last of the lower 48 to become a state. The flag that resulted was this country's symbol longer than any other. The 13 rays of red and gold on the top half represent both the 13 original colonies of the Union, and the rays of the Western setting sun. Red and gold were also the colors carried by Coronado's Spanish expedition in search of the Seven Cities of Cibola in 1540.
The bottom half of the flag has the same Liberty blue as the United States flag. Since Arizona was the largest producer of copper in the nation, a copper star was placed in the flag's center.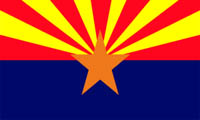 The Arizona state flag was designed by Colonel Charles W. Harris, who served as Adjutant General of the state intermittently between 1912 and 1928. Colonel Harris took both history and color into consideration in his design.
The red and yellow are a nod to the Spanish Conquistadors, who, led by Coronado, traveled through Arizona in 1540 in a vain quest for the Seven Cities of Cibola; the Conquistadors carried red and gold.
The blue field of the Arizona flag is a tribute to the blue of the Union flag. The copper colored star in the center of the flag represents Arizona's status as the largest producer of copper in the nation. The red and yellow colors are arranged in rays around the top of the star, depicting the unique beauty of an Arizona sunset. The first Arizona flag was sewn by Nan D. Hayden.