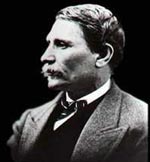 Lt. Edward F. Beale - President Andrew Jackson appointed him to the Naval School. Beale graduated in 1842. Beale made six journeys across the country.

On a trip during July-September 1848, he crossed Mexico in disguise to bring the federal government proof of California's gold.

In 1856 Mr. Beale was sent by the government on a mission of assessing the feasibility of the route for a transcontinental railroad.

In 1857 Mr. Beale and a team of explorers came to survey a wagon route along the 35th parallel to the Pacific Ocean. Beale brought 25 camels as pack animals during this expedition. Beale felt the camels performed well.

In 1876 President Ulysses Grant appointed Beale as Minister to Austria-Hungary. Beale died at his Washington D.C. home on April 22, 1893.

During World War II, Camp Beale (now Beale Air Force Base) was name in his honor. The main street of historic downtown Kingman is named in his honor.