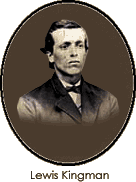 Lewis Kingman - The city of Kingman, Arizona was named for Lewis Kingman, a civil engineer for what was then the Atchison, Topeka and Santa Fe Railroad constructed in the 1880s. Mr. Kingman surveyed a railroad route between New Mexico and California.

Lewis Kingman surveyed the route between Albuquerque, New Mexico and Needles, California in 1880.

Since 1882 Kingman has been the shopping and shipping center for northwestern Arizona. Lewis Kingman supervised the building of the railroad from Winslow to Beale's Springs, which is near the present location of the city of Kingman.

In 1882, a settlement designated as "Kingman" cropped up along the railroad tracks that soon had a rooming house and a couple of stores. The fledgling town was named after Lewis Kingman, the railroad surveyor. The railroad camp grew into a mining, ranching, and transportation center for northwestern Arizona.

By the turn of the century, Kingman had grown to some 500 people and continued to develop as gold was discovered in the hills surrounding the town. The city of Kingman now has a park named for Mr. Kingman.

1906 saw the arrival of the Devine family from Flagstaff, who purchased the Beale Hotel. It was here that Andy Devine, a popular character actor in films from the 1920s to the 1950s, grew up.