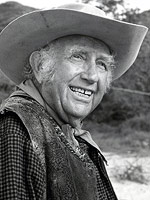 Andy Devine - Andy has become somewhat of a folk hero. Amy Devine stepped from the train in Kingman on November 16, 1906. Andy Devine was a small town boy, and he retained all his life those qualities which we associate with growing up in a small town. His father owned the Hotel Beale and was Mohave County Treasure.

The main street of his home town of Kingman was renamed "Andy Devine Avenue" in his honor. Andy Devine's acting career started out as an accidental happening - he was standing on a street corner in Hollywood when "discovered" Andy's voice became as asset. Once heard, those raspy, squeaky tones are never forgotten.

He starred in a Twilight Zone episode, and was a frequent guest star in many television shows throughout the 1950s and 1960s including "Flipper" and the Jack Benny radio show. His first western, Law and order (1932) was his first playing a "sidekick."

Andy made more Class A movies than any other western sidekick except for Walter Brennan. He played in Roy Rogers' movies, Stagecoach with John Wayne, Island in the Sky, Around The World in 80 Days, The Man Who Shot Liberty Valance.

Devine was also a very successful television star, with the role of Jingles in Wild Bill Hickok being the most famous. His stage career was also an important part of his later acting years. He played the Captain in Showboat (1957) and went on to play in Anything Goes (1961), My Three Angels and Never Too Late.

Andy made over 400 films and more radio, stage and television appearances than anyone cared to count. He was in the first pictures that Hollywood greats Henry Fonda, Jimmy Stewart and John Wayne made.